Predator Baits: Bait Solution: Trail Mate

Fox - Coyote - Cat - Coon - Mink



Fur Taker   (Sweet Fruit Paste Bait) A sweet alluring bait that really satisfies the sweet tooth of fox,coyote and coon. A rich blend of wild fruit essences that are the preferred foods of fox,coon,coyotes and muskrats. This is a real killer at dirtholes for fox and coyote in the early season and excellent in pocket sets for coon and rats. A super prebaiting product. I sell this by the buckets to several A.D.C. and fur trappers across the country.They know what fur taker can do.

Night Stalker (Chunk Bait /Wild Red Meat) A mouth watering red meat chunk bait blended with our special bait solution that will cause any canine to investigate. Made from fresh cut wild red meats that are slightly aged then blended with one of our Matrix bait solution formulas. Excellent all season long.Use alone or with urine or lure to increase the baits attraction. Some longliners buy this by the bucket and many use this bait as a pre bait product. It is edible so it is very rewarding.                       

K-9 Stopper (Egg based Bait) This is a non-meat formulated egg blended bait that can be used alone or in combination with a lure. This bait has a unique odor which causes an aggressive digging response by predators. A great pre bait formula. Excellent when used with just a dab of gland lure or urine at the set. If you need a change of pace early or mid season bait this is it. A small teaspoon is all it takes.This is a limited quantity specialty bait. This is a preferred bait by several of our repeat customers.

Mega Mouse (Mouse Paste Bait) A true, fresh ground field mouse bait. Nothing can beat this natural bait at any type of set. Especially effective when used with a few drops of our Red Devil gland lure. A deadly combo till mid to late Dec. in the North and later in the southern states. Add a couple drops of skunk essence to this bait and stir it up for use in extended freezing temperatures. This bait is completely natural and preserved to keep that fresh killed rodent odor. A very thick paste consistency with just the right amount of moisture to retard dry-out. Limited quantities.

  No gallons -Limited Quantities

Long Liner "Power Plus"    (Fortified Paste Bait)  This highly concentrated paste bait has an ingredient list that is probably better then some lures sold today. Canines find it equally attractive both early and late season. It is one of those baits that actually evokes an aggressive digging response. Long Liner may be used alone at a flat set, dirtholes, projection sets or in combination with a lure or urine.Its good enough to be used as a stand alone. Long Liner really reaches out and grabs a canine's attention and is great for pre-baiting, getter guns and test locations. It is extremely durable while it resists wash out and dry out.This bait is a close cousin to the infamous XXX Matrix Bait so you know it is a top notch bait.Use sparingly as you would a good lure.

Trail Mate

Professional Trailing Scents

Available in These Scent Types:

Type 1 ( Fox - Coyote - Cat )

$20.00 per pint      3 pints $50.00

These highly concentrated scents are trapline proven and are very effective for trailing canines and coon to your sets. These specialized scents will absolutely add fur to the stretchers.They were designed for those situations where you need to lead your target animal or to draw your potential target animal into a more secure location to prevent theft. You can use Trail Mate as a "Shoot and Go"  lure at pockets sets or in DP type traps.Or apply it as a needed trailing scent.

Either way Trail Mate will pull the animal to the lured area. Many hard hitting coon and canine trappers use it as a stand alone lure and just squirt it in a pocket or down into a hole set and then get on down the road quickly not wasteing any time. Its fast, easy and productive. Each bottle comes with a complete instruction pamphlet. One pint bottle will do 80 to 100 sets depending on how heavy an application is used.One coon or one coyote will pay for the first bottle. The return on your investment with this product is dollars well spent.A $15.00 coon @50 coon catches equals $750.00. I have done this hundreds of times as have many of our customers. Trail Mate does it all...........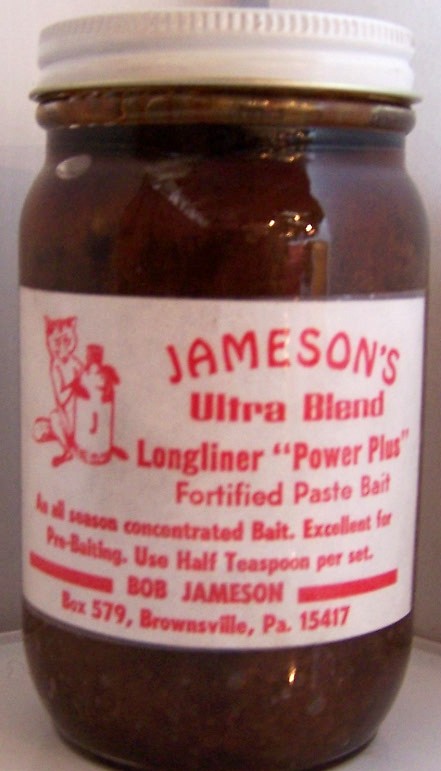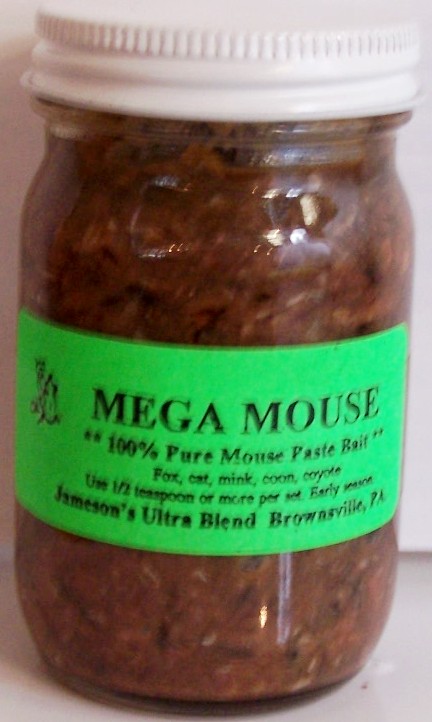 Call: 724.938.2002 or Fax 1.888.387.2001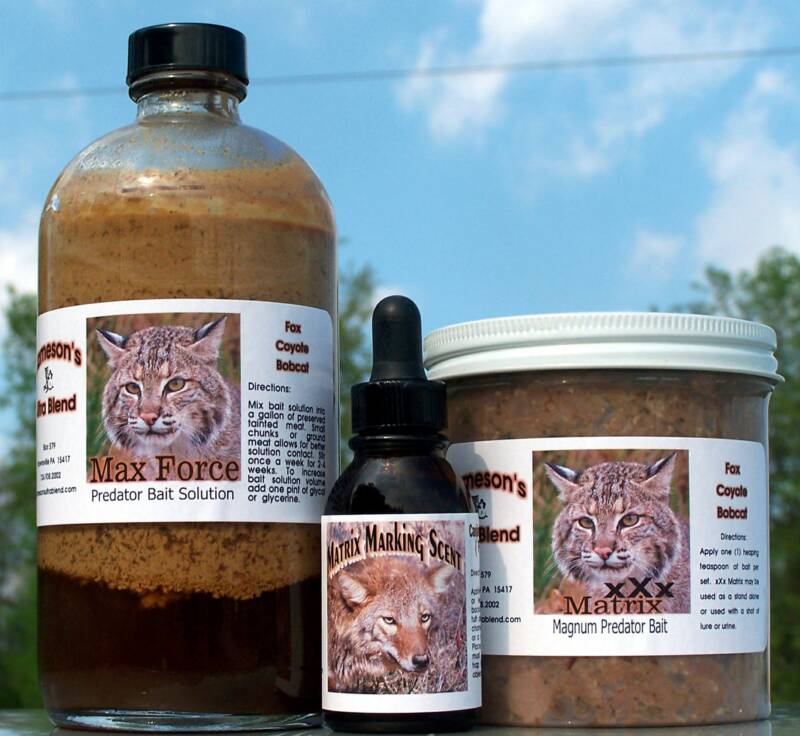 "Hard Hitting" Predator Bait, Max Force Bait Solution and Canine Marking Scent

"xXx Matrix" Predator Bait is in essence a super charged aged bobcat meat paste bait. It is a food lure, a bait, a curiosity call and an LDC lure all in one. I have used this predator bait for many years as a private stock bait on my own trap lines East, West and South. I only sold a limited amount of this bait at its introduction because the availability of the base material was not there for commercial sales volume. I have since found a source for cat meat. I make what I think is an adequate quantity of this bait for each season due to the time and cost involved in its development. However once my inventory has been sold, I will not make any more bait until the next spring. This bait is extremely attractive to all predators' (fox, cats and coyotes). Sets baited with "XXX Matrix" are found quickly and worked aggressively even long after the sets have been pulled. Most of the time I only use a shot of urine at a set with it.

"XXX Matrix" bait has become my "Ace" when I need to hit it hard / fast and I need to clean them out quick. A gland or other type of lure can be used with "XXX Matrix" bait also with great results but the bait is so attractive as a stand alone it really is not necessary.

"Max Force" Bait Solution is a professional formula bait mix for the serious trapper that likes to make his own predator bait. Just add one pint of "Max Force" bait solution to any gallon of fresh or aged meat for a top notch predator attracting bait. Our bait solution contains a moderate amount of preservative that will help guard against significant bait aging. However a preservative such as sodium benzoate should be added to your meat at the rate of 8-12 ounces per gallon of meat bait to stop it adequately. Then blend in the "Max Force" after after the bait has been preserved. "Max Force" bait solution is a lure in itself and some buy it for that purpose. The resulting formulated bait when properly aged will rival or surpass many commercial types of bait available today as its field use will prove. I have used this same formula for many years before releasing it for retail sale. Simple directions are on each container. 1/2 gallon of bait solution will do approximately 4 gallons of bait; one gallon of solution will do approximately 8 gallons of bait.

Feature Products:

XXX Matrix Predator Bait,

Canine Marking Scent and Bait Solution

It is bait making time.Spring is the time to collect your meat base, age it, preserve it and add "Max Force" bait solution. Stir frequently and let sit till fall.You will have a class act predator bait that will perform as a good bait should.This solution will turn any red meat into a multi attraction bait that will cause  all predators to investigate this alluring scent trail.

You want a magnum predator bait ???. XXX Matrix Bait is it.You will not find a more complete bait that covers all the bases in attraction.Multi attraction baits are one of our specialties and what make use stand above the crowd..Most lure makers find it too costly to build these baits as we do.However the animal responses to these types of attractors is quite evident.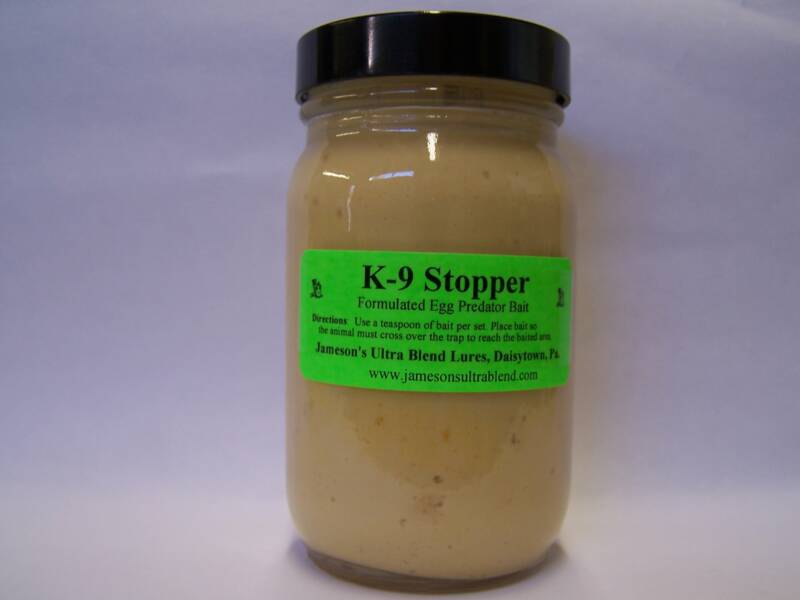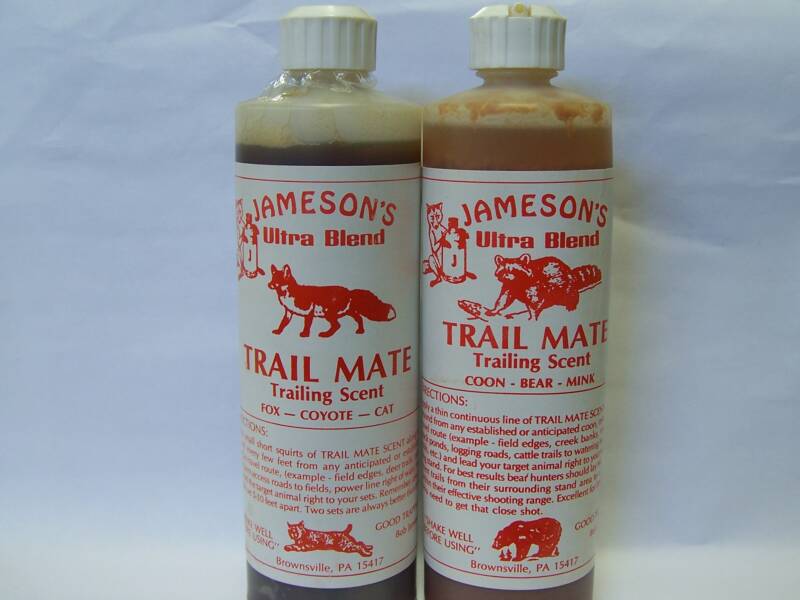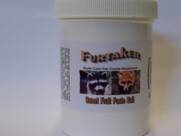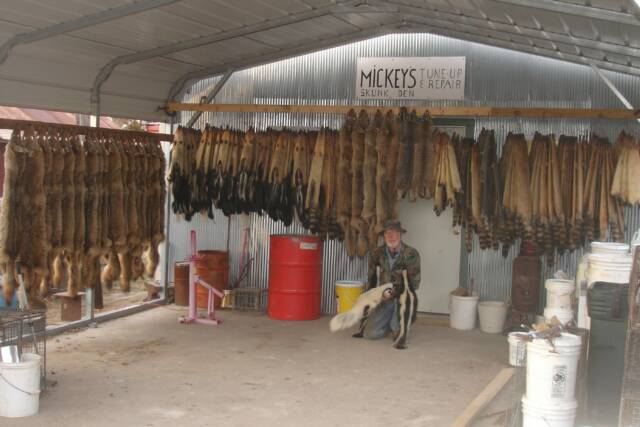 Mick Meyer from  Kansas gets the job done with our lures and baits.

    "XXX"   Matrix Baits   is available in our original "Bobcat Meat" formula and now available in our new "Beaver Meat" Formula.

The beaver bait formula is very musky and still carries the fresh beaver meat odor that all predators crave.

Be sure to select which " XXX" formula you want with your order. The Cat meat formula or the Beaver meat formula.

Using both in double set situations gives the best of both worlds for attraction. One is hot and sharp (Cat formula )the other (Beaver) is milder, sweet and more subtle in its odor release.

Type 2. ( Mink - Bear - Coon )

       Original

Cat meat Formula >

* This product is sold out and no longer available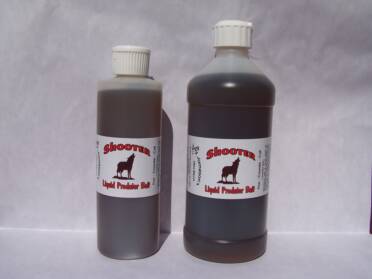 "Liquid predator Bait."

     "Shooter" is a liquid bait formulated directly from primary predator meat base                           sources.This process ensures the complete critical meat odor properties remain

      intact within the extracted liquid meat by-product. A multi year development process is

      required to achieve the final base material. This material is then beefed up with                     a few other key ingredients that boost  "Shooter" into a super concentrated  predator             attractor. This product will re write the book on baits.

    Only small shot amounts are needed for a well baited application. It is

    a concentrated formula that will go a long way and should be used in the

    same manner as you would a good lure. Any predator that comes in contact

    with this liquid bait scent trail will be compelled to investigate this enticing food odor

    blend. Raccoon and mink are drawn to it as well.

   "Shooter" may be used as a stand alone attractor or it can be used with a shot

   of good urine. When you feel the need for refreshing a set either a dirt hole

   or flat type set just " Shoot and Go" with "Shooter". You are primed and

   ready for another visitor to your set. Recharging a set couldn't be easier.

   Its fast, easy and very effective. It saves so much time when baiting or refreshing a set is      needed. Nothing better on a good flat set for the primary attractant.

   If you have never used a liquid bait before this is one you won't want to be without. It will       spoil you. No need to carry several different baits again. Key primary meat food odors           are contained in "Shooter."

   As a result of Shooters concentrated liquid form a predator is not able to get all the odor       out of a dirt hole nor can the odor be completely removed from the application area.              Trace odors remain for months at a set.This formula penetrates and soaks into the                applied area very thoroughly.

   We have had strong sales for this product since its introduction to the trapping industry         and have sold out the last two seasons as a result of its high demand. It is recommended      to order early to get your bottles of  "Shooter". 

   Since it requires 1-2 years to produce this product once we have sold out for a season it       will not be available again until the following year.

  Good Trapping to all,

   Bob Jameson

Canine Matrix Marking Scent can be found on our Gland Lure page for a full product description, ordering and pricing information.