A.D.C. Nuisance Control Baits

All A.D.C. Lures and Baits come bottled in durable plastic

containers for easy use and proper application.

Prices on A.D.C. Baits

8 oz. $8.00;   16 oz.  $15.00;    Gallon $80.00

A unique proven blend of natural herbs and select oils make up Formula Two.This change up formula is another rich blended bait odor that chucks cannot resist. Like "Formula One," this unique bait is deadly on chucks with an enticing scent drift odor the woodchuck can't avoid. This bait is a great second trap set up product that gives them a different bait to investigate. Thousands of woodchucks are caught each year on  these two products.Always use eye appeal with these products for best results.A broccoli spear is our choice for good eye appeal.

Formula One

Woodchuck Bait

Herbal Base

This rich and full-bodied bait is made from an enhanced blend of a woodchuck's primary food sources. The blending of these essences compliments the formulation without over powering its rich, natural aroma. Any grazing or traveling chuck will find this offering difficult to pass up at any time of the year."Formula One" is put up in a heavy paste form that's built to last. One or two tablespoons is sufficient bait for each cage trap setting. Great spring or summer and guaranteed to produce fast results.

This fortified paste bait spells "lunch time" for all species of squirrels and nut eating rodents. "Nutcracker" is a rich "nut flavored" blend of the squirrel's favorite food stuffs, all put up in one unique bait.  Just smear some bait on a few walnut shells or a handful of acorns for eye appeal.  Place scented nuts in back of your cage trap so they can easily be seen by any traveling squirrel. The "sweet nutty" fragrance of "Nutcracker" will do the rest. It's very durable and weatherproof.  A great all season bait. Full of seeds and nuts.This is the finest squirrel bait available.It is edible.

Fireball A.D.C.

Raccoon - Skunk

A paste bait that is a sharp blend of food and curiosity odors with some high odor push ingredients for a cold weather scent trail. A proven bait for warm and cold temperatures for raccoon,opossum,rodents and skunk.Our Number #1 selling nuisance wildlife and fur trapping bait for cages and DP type traps.Due to its unique formula "Fireball ADC" will outlast and hold its sharp fragrance like the energizer bunny...  It is the primary bait of many of the top ADC companies and fur trappers in the U.S. and Canada. It  is also cat proof as a bait can be and still attract the skunk and coon.This bait is good along the water or around domestic urban settings particularly where roaming pets are a concern.

Urban Wildlife

Raccoon-Skunk

Opossum-Woodchuck

"Urban Wildlife" universal paste bait is one of our original and most versatile ADC baits. It has been used by fur trappers and Nuisance A.D.C. personnel for 25 plus years for Raccoon, Skunk, Woodchuck and Opossum. It is also very attractive to fox and coyote for summer and early fall trapping. "Urban Wildlife" is virtually cat proof by nature which is a big advantage when trapping in surburbia.This bait is also a reward / edible bait that can be used as a pre bait product if needed. An excellent standby staple bait that is a great choice for your multi specie trapping  needs. A real "get it done" bait for the do it yourself  homeowner or veteran ADC trapper.

A powerful and proven bait that was tailor made for the nuisance control skunk trapping. "Grub Stake" is a target specific skunk bait that is a balanced blend of food odors, cultured egg, and curiosity ingredients. The results is a natural sweet/musky aged food aroma that skunks will seek out as a known and desired food source. Used with a few cracked egg shells or marshmellows for eye appeal, this bait can't be beat in performance. Grubstake is a thick, durable and attractive all seaon bait for skunks. A very target specific bait for the professionial or ambitious home owner.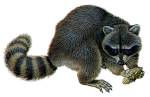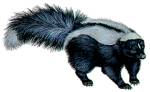 Note: Eye appeal usage is recommended for optimum performance of any lure or bait. (example): broccoli - apples - shell nuts - stale marshmallows - bagels -

bread - romaine lettuce - crispy chicken skins etc.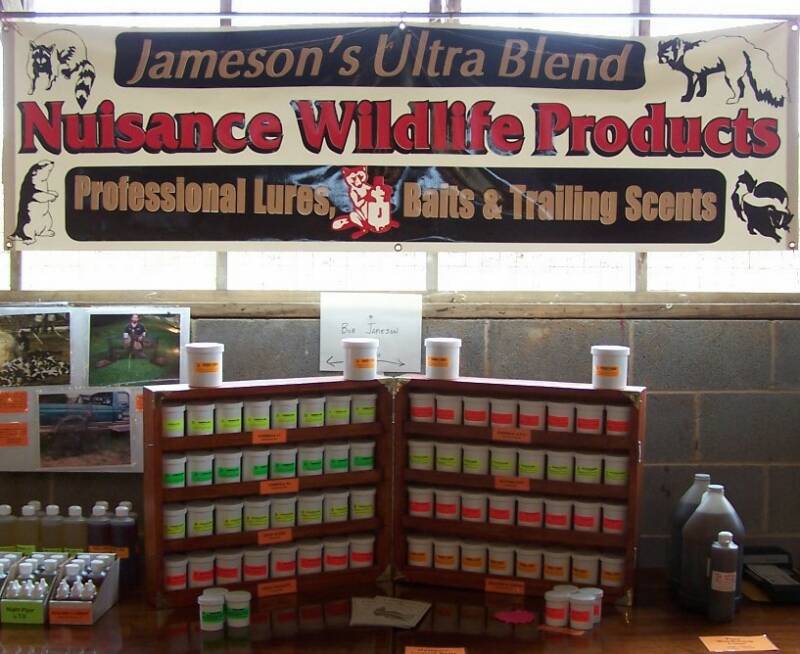 Jameson's Ultra Blend, Nuisance Control Products being displayed at the Virginia Trappers Convention, held in Luray, Virginia. July, 2004.

Formula Two

Woodchuck Bait

Herbal Base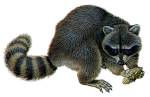 (Universal Gel Bait) This piecing sweet  bait is proving to be the most effective multi-species bait offered in the industry.It is extremely attractive to a variety of animals including canines,woodchuck,skunk,opossum,squirrels and coon. The obvious aroma of ripen peaches with a soft side odor of sweet vanilla cream is a most appealing attractive fragrance. Everything comes to this bait and it is edible for animal consumption. So it makes a great pre bait product if needed to be used in such a fashion.This bait is an excellent primary bait choice for all nuisance wildlife animals and for all urban trapping applications.In hundreds of field applications across the country "Peaches & Cream" has out performed many other baits 2-1  as a result of its extremely enticing aroma.This is a must have bait for any serious ADC operator....

Peaches & Cream

Universal Gel Bait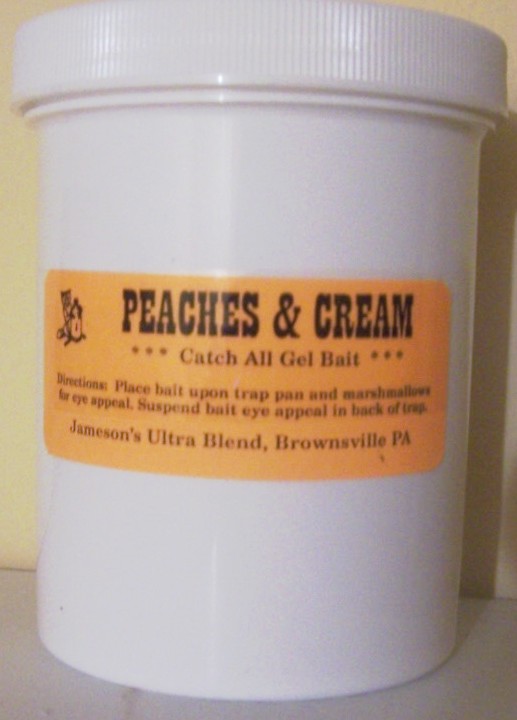 Call: 724.938.2002 or Fax 1.888.387.2001

The Nations leading professional nuisance wildlife control Lures and Baits